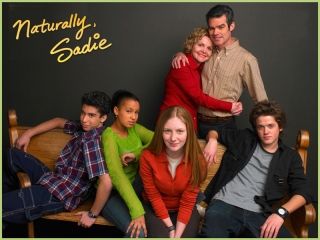 Naturally, Sadie is a Canadian comedy teen drama sitcom that ran for three seasons from June 24, 2005 to August 26, 2007.
It was produced in Canada, set in Whitby, Ontario. Filmed in Toronto, Ontario, most of the show was shot inside a former Catholic elementary school in Little Italy, including the school and home scenes. Mall scenes were filmed in the nearby Dufferin Mall.
The plot centers on 14-year-old Sadie Hawthorne, who lives with her parents and brother Hal in Whitby, Ontario. She's a high school student and aspiring naturalist who loves to study and observe animal behavior. Luckily for her she has two best friends, Margaret and Rain, to back her up until she figures it all out. The series was originally titled and broadcast as Going Green, the name being changed to Naturally, Sadie when Shawn Hlookoff thought of the new idea.
Season 2 deals with Sadie as a sophomore in high school and sees her acting, feeling, and looking more like a typical teenager. From season 1 to season 2 the show's format changed greatly. There is more continuity between episodes and less focus on nature. Sadie no longer has a crush on Owen Anthony but now likes the new kid, Ben Harrison.
Season 3 deals with Sadie and Ben's relationship after they break up in the first episode. Margaret is still really into fashion and gives even more advice. Rain's old friend Taylor comes back into his life and they get closer and become a couple.